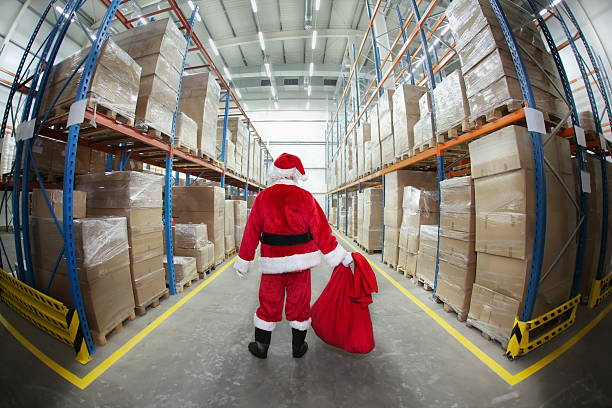 You've increased your investment into demand generation marketing in anticipation of your best holiday season yet.  As the sales come rolling in, you already know the importance of being able to deliver on everything your customers ordered, or they won't be your customers for long.  But as a small business operating on QuickBooks and spreadsheets, keeping tabs on your fulfillment process may prove to be more difficult than initially anticipated.
The following 5 tips will help you leverage best practices to help keep customers happy by delivering on time, as expected, and with delightfully positive experiences that lead to 5 star customer reviews.
Tip 1: Know Your Inventory; The Best Form of Customer Service
There is little more frustrating to a customer than finding the perfect gift, placing an order, and then learning after the fact that the product you can't wait to receive is out of stock.  As fundamental an issue as this may seem, according to the 2017 State of Small Business Report by Wasp Barcode "A surprisingly low 18% of respondents use a sophisticated automated system to manage inventory (only a 2% jump from last year), while 14% of respondents still use manual processes to track inventory, and 21% rely on spreadsheets such as Excel."  That said, it is essential to know what inventory you have on hand, what inventory is available to sell, and what more you have coming in from your suppliers.  Implementing some means of properly tracking inventory and keeping all sales channels in sync is the best means of eliminating inventory outages and preventing loss of customers.
Tip 2: Deliver on What You Promise
Whether selling through a major retailer or direct to consumer via your own website, it is essential to strive for accuracy of fulfillment rates that are 99% or better.  Accuracy fulfillment rates are generally determined by evaluating such metrics as measuring what was delivered vs. what was ordered, timeliness of delivery vs. promised delivery date, and compliance with required shipping and routing requirements imposed by certain retailers and partners.  To maintain these high but necessary levels will require a meticulous approach to managing logistics, inclusive of empowering employees with systems that maintain real-time accuracy and keep data of disparate applications in sync.  While it may seem daunting at first, maintaining this degree of success will earn consumers' trust and ensure happy, loyal, repeat customers and high customer lifetime values (CLV).
Tip 3: Build a Scalable Distribution Infrastructure
Working with processes that require hands-on intervention of every order on a daily basis is an impossible feat when thinking in terms of growing your business.  It is vital to implement automated procedures with intelligence that enables a transition to managing operations by exception.  This approach allows all 'good' orders to flow seamlessly from your E-Commerce system through to your fulfillment process with little manual intervention, while incorporating pauses for approvals and verification as needed, as well as alerting your team of any exception failures for qualifications such as exceeding credit limit, incorrect pricing, and out of stock items.  Properly implemented automation will increase throughput capacity by an estimated 30 times over a manually controlled process, and provide the fuel and foundation to grow.
Tip 4: Monitor Your Most Critical Fulfillment Statistics
As you would with sales and marketing statistics, pay close attention to the daily performance of your manufacturers, suppliers, and fulfillment partners.  Meticulously manage on time deliveries, accuracy, quality, throughput, and overall supplier performance.  Your partners are an extension of your supply chain and play a key role in keeping your customers happy and coming back for more.  Don't be shy.  It is critical to address issues with partners as immediate as they occur, and make necessary adjustments on a timely basis.
Tip 5: Be Prepared and Think Ahead
There is little that is more harmful to your business than increasing your sales, and not being prepared to fulfill and ship as expected.  With the holiday season rapidly approaching, it's not too late to establish the necessary processes and analytics that will make all the difference in the right ways.  While cost and budget should always be a concern, it's prudent to take time now and think through the "what ifs" of achieving success in sales, and how you plan to meet customer demands.  Be prepared to scale, but also know what your limitations are.
Tip 6: Bonus Tip: Differentiate with Holiday Value-add
Now that you have addressed your fulfillment concerns, it's time to focus on maximizing your sales potential by differentiating your products during the holiday season.  One simple, cost effective approach that works well is to offer holiday value-adds, such as  including a holiday promotional item, special packaging, or an incentive for a future order.   It doesn't need to be fancy or costly, but well implemented value-adds will lead to positive feedback and increased repeat ordering.
fulfillment, inventory